Download button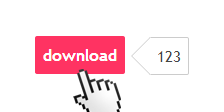 Easiest possible way to create download system for your files, directly from your site or blog, with just few clicks. Choose style, colors, choose how public should the stats be, or even if automatic file size should show. Download count can be checked on individual websites or collectively here on this site.
changelog ▽
21.02.14
1.1
Xml support added
20.02.14
1.0
created
Paste file address
.jpg, .png, .gif, .pdf, .doc, .docx, .odt, .zip, .rar, .xml. MAX 5mb.
File name after download
Choose button style
Download count
Show file size?
stats